The DJI Mavic Pro QuadCopter is one of the small but extremely powerful quadcopters than can turn the sky into a creative canvas. The 2019 DJI Mavic Pro QuadCopter can easily capture every moment with his high definition video camera and can store those memorable moments in its storage. Its compact size hides the high degree of complexity, which makes it one of the most sophisticated flying cameras ever.
It features
24 high-performance computing cores,
An all-new transmission system with the 4.3 miles range,
Five vision sensors
4K camera stabilized by 3-axis mechanical gimbal.
All of the features mentioned above are just one command away. Moreover, the full review of 2019 DJI Mavic Pro Quad Copter with its specifications and pictures are given below.
2019 DJI Mavic Pro QuadCopter – Features and Specification
Powerful
The 2019 DJI Mavic Pro is one of the most powerful drones of all time. Insides the Mavic's pocket-sized remote controller is DJI's new OcuSync transmission technology. This technology has a range of 4.3 miles and is capable of capturing 720p HD long-range and full HP 1080p short range video streaming.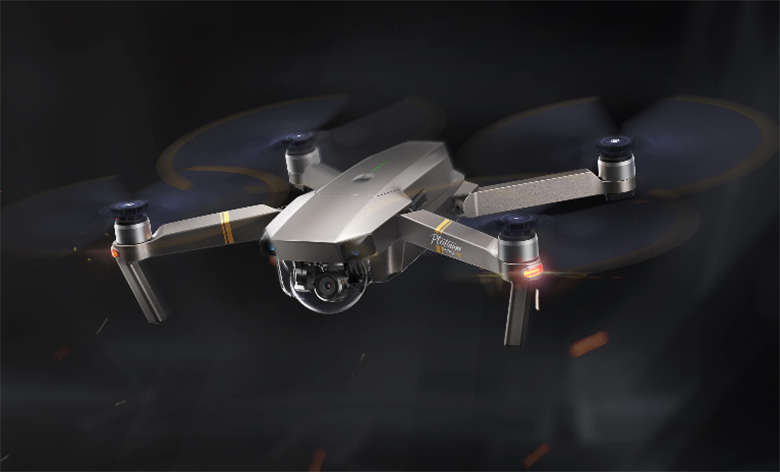 No bumps and scrapes
Sometimes, there are chances that an unprotected quadcopter could hit obstacles during its long-distance flight or when descending from a short height in return of home mode. The Mavic engineers have used the latest Flight Autonomy technology, which detects obstacles up to 49ft away and allows the drone to bypass them or slow down to reduce the chances of accidents.
Precision Hover
In the world of the latest technology, satellite positioning can help the drone to hover in an unobstructed outdoor area free to interference. It's a fact that without any proper guidance and satellites support, the quadcopter will only drift here and there and will not be able to reach its position. However, with forwarding and downward vision sensor, the Mavic can hover precisely indoors or in places without GPS.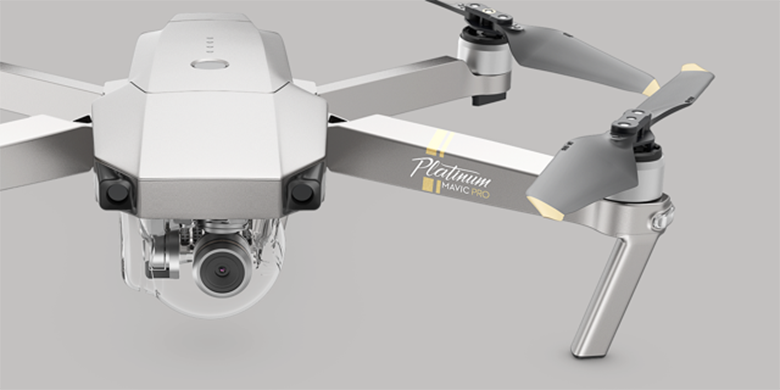 Stay flying longer
As compared to Phantom, the Mavic is only 1/6th of its size, but this reduction in size does not mean any reduction in flight time. The Mavic can fly much longer than any other drone of the same size. It can reach an maximum flight time of 27 minutes and a maximum distance of 8 miles due to its powerful and high-efficiency motors.
4K Ultra HD Video
The DJI Mavic Pro supports 4K video at 30fps. It does not require any Electronic Image Stabilization, plus it ensures all footage in 4K. The Mavic engineers have created a miniaturized, ultra-precise 3-axis gimbal for Mavic which can stabilize the camera even at the high-speed motion for smooth video and sharp photos.
Photos with altitude
This DJI Mavic can capture good images to build a portfolio. The Mavic's 12-megapixel camera comes with Adobe DNG RAW support is ready to shoot.
Creative
This drone camera can shoot like a pro. Its ActiveTrack allows the pilot to instruct who to track, and it will handle the rest. One can take his pictures by pointing his fingers at Mavic, and with the help of a gesture, one can take his pictures. Thanks to Mavic's Gesture Mode, one can take selfies in a way that no one has experienced before. By using the Tripod Mode, the pilot can reduce the speed of a drone to make it slow and precise. It is beneficial when flying indoors.
Easy
This Mavic is easy to control by using the phone. The pilot can shoot a video of his friend and can head skywards for a quick flight. Newbies are not familiar with the joystick, which makes them challenging to shoot a video in a straight line. So, TapFly is the only means which helps the pilot in smooth flight. In this mode, the pilot can only focus on controlling the gimbal and capturing photos and video. The Mavic is exceptionally responsive, and one can enjoy a speedy flight on Sport Mode with a speed of 40mph.
The super high-quality wireless DJI Goggles allows the pilot to see the world with the eye of a bird. The DJI GO 4 Editor enables the pilot to edit the video in just a few simple steps instantly. Both the Master and Slave remote controllers can control and monitor the quadcopter and can gimbal, but the master remote controller will have a priority. An experienced pilot can use the Master remote controller to override the less experienced pilot for better safety. The Dual Remote Controller Mode can make it fun and easy to fly DJI Mavic and film the flight footage.
Worry-Free
The most common problem in most of the drones is that the sensor is not working correctly. In Mavic Pro, two sensors have been used. If one goes wrong, the other will helps the pilot to control the flight. It can maintain the same height level during the trip. The DJI Mavic Pro can keep the right height over uneven terrain to avoid any accident.
The Mavic's Intelligent Flight Batteries gives the flight time up to 27 minutes, which allows the pilot to check battery level and status in real-time during a flight through the DJI Go 4 app. It also calculates the remaining flight time that helps the pilot to fly back home safely. The DJI GO 4 app allows the rider to see everything, which is in front of the camera.
2019 DJI Mavic Pro QuadCopter – Technical Specifications
Aircraft
Folded
H83 mm x W83 mm x L198 mm
Diagonal Size (Propellers Excluded)
335 mm
Weight (Battery & Propellers Included)
1.62 lbs (without gimbal cover)
1.64 lbs (with gimbal cover)
Maximum Ascent Speed
16.4 ft/s in Sport mode
Maximum Descent Speed
9.8 ft/s (3 m/s)
Maximum Speed
40 mph in Sport mode without wind
Maximum Service Ceiling Above Sea Level
16404 feet (5000 m)
Maximum Flight Time
27 minutes
Max. Hovering Time
24 minutes (no wind)
Overall Flight Time
21 minutes
Total Travel Distance (With One Full Battery, No Wind)
Eight mi (13 km, no wind)
Operating Temperature Range
32° – 104° F (0° – 40° C)
Satellite Positioning Systems
GPS / GLONASS
Hover Accuracy Range
Vertical: +/- 0.1 m or +/-0.5 m
Horizontal: +/- 0.3 m or +/-1.5 m
Operating Frequency
FCC: 2.4 – 2.4835GHz, 5.150 – 5.250 GHz, 5.725 – 5.850 GHz
CE: 2.4 – 2.4835GHz, 5.725 – 5.850 GHz
SRRC:2.4 – 2.4835 GHz, 5.725 – 5.850 GHz
Transmitter Power (EIRP)
2.4GHz
5.2 GHz
5.8 GHz

Remote Controller
Operating Frequency
2.4 GHz – 2.483 GHz
Max Transmission Distance
FCC Compliant: 4.3 mi
CE Compliant: 2.5 mi
SRRC Compliant: 2.5mi
MIC Compliant: 2.5 mi
Operating Temperature Range
32° – 104° F ( 0° – 40° C )
Battery
2970mAh
Transmitter Power (EIRP)
FCC:<=26 dBm
CE:<=20 dBm
SRRC: <=20 dBm
MIC: <=18 dBm
Operating Current/Voltage
950mA at 3.7V
Supported Mobile Device Size
Thickness Supported: 6.5-8.5 mm
Max length : 160 mm
Supported USB port types: Lightning, USB(Type-C)™, Micro USB(Type-B)
Gimbal
Controllable Range
Pitch: -90° – +30°
Roll: 0° – 90° (Both Horizontally and vertically)
Stabilization
3-axis (pitch, roll, yaw)
Vision System
Vision System
Forward Vision System
Downward Vision System
Obstacle Sensory Range
Precision measurement range: 2 ft – 49 ft
Detectable range: 49 ft – 98 ft
Operating Environment
Surface with clear pattern & adequate lighting (lux > 15)
Velocity Range
≤22.4 mph (36 kph) @ 6.6 ft above ground
Altitude Range
1 – 43 feet
Operating Range
1 – 43 feet
App / Live View
Mobile App
DJI GO 4
Live View Quality
720p at 30fps, 1080p at 30fps
720p at 30fps
720p at 60fps, 1080p at 30fps
Latency
160-170ms
Camera
Sensor
1/2.3 inches (CMOS); Effective pixels=12.35 M.
Lens
FOV 78.8° 26mm (35mm format equivalent) f/2.2
Distortion<1.5% Focus from 0.5m to infinity
ISO Range
video: 100-3200
photo: 100-1600
Electronic Shutter Speed
8s – 1/8000 s
Still Photography Modes
Single shot
Burst shooting: 3/5/7 frames
AEB (Auto Exposure Bracketing) : 3/5 bracketed frames at 0.7 EV Bias
Interval
Image Size
4000 × 3000
Video Recording Modes
C4K = 4096×2160 24p
4K = 3840×2160 24/25/30 p
2.7K = 2720 x 1530; 24/25/30 p
Supported File Systems
FAT32 ( 32 GB ), exFAT ( > 32 GB )
Max Video Bitrate
60 Mbps
Photo
JPEG, DNG
Supported SD Cards
Micro SD™
Video
MP4, MOV (MPEG-4 AVC/H.264)
Max capacity: 128 GB. Class 10 or UHS-1 rating required
Operating Temperature Range
32° – 104° F ( 0° – 40° C )
Wi-Fi
| | |
| --- | --- |
| Operating Frequency | 2.4G/5G |
| Max Transmission Distance | 80 m(Distance), 50m(Height) |
| Max Speed | 14 km/h (9 mph) |
| Max Ascent Speed | 6.6 ft/s(2 m/s) |
| Max Descent Speed | 3.3 ft/s(1 m/s) |
Charger
| | |
| --- | --- |
| Voltage | 13.05 V |
| Rated Power | 50 W |
Intelligent Flight Battery
| | |
| --- | --- |
| Capacity | 3830 mAh |
| Voltage | 11.4 V |
| Battery Type | LiPo 3S |
| Energy | 43.6 Wh |
| Net Weight | 0.5 lbs(240 g) |
| Charging Temperature Range | 41° – 104° F ( 5° to 40° C ) |
Conclusion
This review article provides the full information of 2019 DJI Mavic Pro QuadCopter along with its specifications and pictures. It is one of the best quadcopters by DJI that comes with the number of features. Its camera result is mind-blowing, offering a more magnificent video capturing experience. The dual remote controller allows both experienced and newbie to control the flight. Those who are willing to take their selfie experience to the next level should think about purchasing this drone and store every moment of their life in it.