The Aeryon brand is well-known in the field of drones and quadcopters manufacturing. This year, in 2019, it has manufactured the new Aeryon 2019 SkyRanger R60 . This drone has set the new standard for real-time, secure, aerial intelligence across the full range of mission-critical applications. It is considered to be best for searching and rescue operations in commercial inspections or military use. The new 2019 SkyRanger R60 Drone is deployed with over 20 militaries, and it is in use with the public safety departments. Different industries are using it for various purposes in over 30 countries. The review of the new Aeryon 2019 SkyRanger R60 Drone with its pictures and technical specifications are given below.
Aeryon 2019 SkyRanger R60 Drone – Features

Technology
The new Aeryon 2019 SkyRanger R60 Drone features the IP-53 rated, carbon fiber, and reinforced polycarbonate folding airframe. This frame makes it lighter, compact and robust as compared to different drones available in the market. No other drone in the market can meet the standard of new Aeryon 2019 SkyRanger R60 . Its compact and folding design makes its transportation easy within a few minutes without using any tools. The secure and all-digital network offers AES-256 encryption so that the pilot cannot worry about his data. The new SkyRanger R60 provides reliable performance in a variety of conditions like high winds, extreme temperatures, and inclement weather. An infrared and zoom imaging payloads provide electro-optical and infrared imagery video in day and night flight. The new quad-core processor and GPU give real-time onboard image and video processing.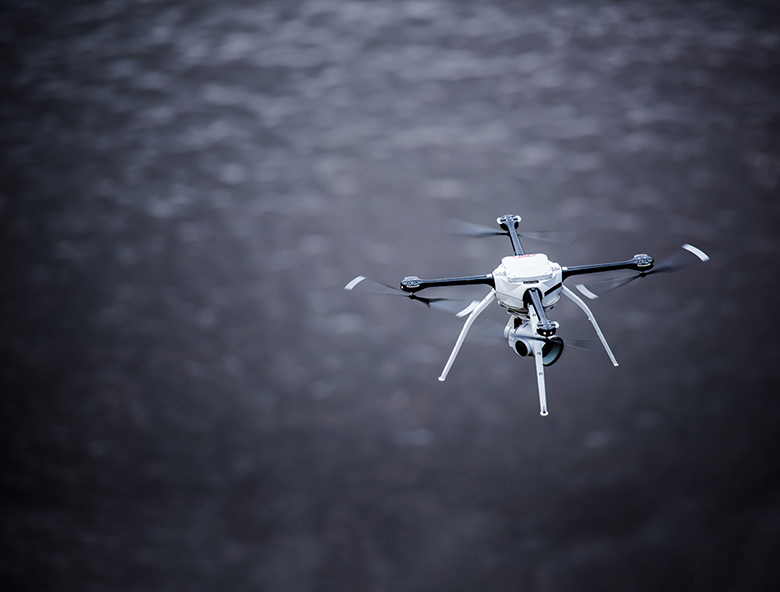 Perfornce iman Extreme Environment
The new  2019 SkyRanger R60 Drone can perform well in a variety of conditions. It features the water-resistant airframe and payloads guarantees to have the safe and reliable operation under extreme conditions. This drone can provide stable operation experience under windy conditions. It can sustain the wind speed of 40 mph, so don't worry about the breezy environment, the new Aeryon 2019 SkyRanger R60 Drone can withstand wind.

State-of-the-Art Software
The new Aeryon 2019 SkyRanger R60 features the best software of all times. The latest Vector Target Tracking software automatically targets and tracks moving objects up to 3 miles away. The tracing algorithm adapts in real-time to change in target shape, plus it maintains a hold on the target even when it constantly changes its position. The new Automatic In-Air Replacement (AIR) ensures to have a constant eye on the goal. It enables us to have fully charged and ready to launch to automatically replace another airborne 2019 SkyRanger R60 when its battery is depleted or when it needs to land. This AIR system guarantees to have real-time payload swaps when conditions are changing.
The new Aeryon 2019 SkyRanger R60 Drone is best for
Public Safety
Commercial
Military and Defense

Unique Key Features
An Extensive Operational Heritage
Flies in Demanding Conditions
Advanced Imaging Payloads
A secure, end-to-end solution for UAS operations

Aeryon 2019 SkyRanger R60 Drone – Technical Specifications
Flight Time
Up to 50 Minutes
Max Range
1.86 miles (3km) with the standard base station
6.21 Miles (10km) with a directional antenna
Payload Capacity
1.5lbs (0.7kg)
Wind Tolerance
Up to 40 mph sustained & Up to 55 mph gusting (65 kph & 90 kph)
Max Ceiling
15,000′ MSL
Operating Temperatures
-22˚F to 122˚F (-30˚C to +50˚C)
Frequency & Waveform
High-Power WiFi: 345 Mhz & 900Mhz & 1.28Ghz & 1.38Ghz & 2.4Ghz
Wave Relay: 2.3Ghz – 2.5Ghz
Ground Control Station
Aeryon Mission Control Station (MCS) Software
Video Metadata
Embedded STANAG 4609 KLV Metadata
Encryption
AES256 with Physical Key Exchange
Environmental Tolerances
Weather-rated operations, containing some components, tested to IP-53
Weight
| | |
| --- | --- |
| Aircraft | 5.3 lbs (2.4 kg) |
| Standard Pack | 11.0 lbs (5.0 kg) |
Flight Training
3-Day Course + Aeryon eLearning academics

Conclusion
This article provides the complete details of Aeryon 2019 SkyRanger R60 Drone, and it is covered under coptercatalog.com. This quadcopter is one of the drones featuring the latest technology and software. This drone is considered to be best for inspection and rescue purposes. It features the latest software that ensures to have an eye on the target. The lightweight and perfectly designed frame enable it to perform well under harsh conditions.